Welcome to the Titan Academy Fandom!
This fandom contains spoilers! Please read at your own risk.
Characters • Wiki Staff • Recent Changes • New Photos • New Pages • Help Wiki
Welcome to the Titan Academy Fandom! This fandom is dedicated to the popular YouTube series of the same name, directed by JianHao Tan!
A fandom exists because of fans like you, who are willing to give their time for the community and it is because of you, this community has grown so much in past years. Just keep giving us your valuable time and effort, so we may flourish till the very end!
Please do mind the rules and guidelines that are set for this fandom!
Story
This
school series
takes place in
Titan Academy
, a fictional prestigious private school located in Singapore.

JianHao, a carefree troublesome student from Class T1-T5, is known for flunking his classes and his popularity of being the comedic relief around the school. He constantly doesn't do well on his academics, and only passed in exams for the very first time.
Throughout the entire series, there are also other several themes involving school romances, breaking the boundaries between popular students and nerds, the constant struggles on the annual examinations, bullyings, and many more.
Recently, the Academy has been run over by an organisation, due to financial issues brought by a pandemic. In line with this, the faculty has been reorganised, along with different implementing rules and regulations for all students and teachers alike.
Helping Us
With
893
articles and
1,731
files, the
Titan Academy Fandom
grows with new information!
To write a new article for the wiki, write down a title for it below.
If you're looking to help with cleanup, you can start here:
---
Recent Blogs

RubyH113
•
I have just thought of a quote.
'WHAT?! I SPEND ALL NIGHT, ALL DAY STUDYING AND THIS IS WHAT I GET?'
I remembered Pei Shi said that but there also shou…
Discord Server
| | Visit our Discord for more discussion about our Titan Academy Fandom! |
| --- | --- |
---
Disclaimer: Read Discord's terms and guidelines before using the server. You must be at least 13 years old in order to use Discord!
Latest Release
Touch/click the thumbnails to go to the videos!
JianHao Tan • Titan Academy Series
Episode 62 • Season 5
14 Types of Students during a Fire
---
TRAILERS & BEHIND THE SCENES
HAO • Episode 61 • Behind the Scenes
"How We Burned the Titan Academy Classroom!!"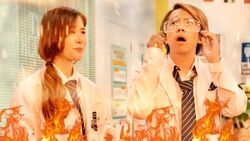 17 Types of Students in Every Science Lab
GraceGlazee • Episode 51 • Behind the Scenes
"Who Are The New Students Of N4-T1?"
NEW STUDENTS vs OLD STUDENTS
Featured Article
Mr. Salim is a teacher, and an alumnus of Titan Academy. Initially introduced as a trustworthy security guard of the Academy in his debut, his career slowly went uphill, as he climbed through the different echelons of the Academy; formerly as a substitute teacher, and now as a full-fledged teacher.


He is known for teaching Class N4-T1. Given that he was a popular boy back in his days of schooling, he's shown to be more of a cheerful teacher in the staff room alongside Miss Sherly and Mr. Mabuhay. Overall, he is an outgoing person who indulges in sharing snacks with his fellow colleagues, which he confiscated from his students.


As a security guard, he is a vigilant person who will stop for nothing to hinder rulebreakers, although, he is naïve enough to be easily fooled, such as when he was tricked by
Madam Soot Beng
.