Class N4-T1 is a class in Titan Academy, joining Titan Academy in 11 New Students You'll See in Every School.
Student Behaviors
Although not much has been known about their academic behaviors during class time, some students share similar personalities of the students from Class T1-T5.
A few even show to have drastically different behaviors or have a mix between some students' personalities from the original class.
On the 14 Types of Students in a New School however, it seems that the new batch of students is relatively soft-spoken compared to the past students, even without the presence of Madam Soot Beng.
Academic Performance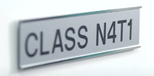 As Class N4-T1 is a newly formed class, the students' academic behavior and performance is unknown at this point. In terms of show and tell, most came prepared. In terms of discipline, it resembles a bit of T1-T5, but not much.
Characters
Teachers
Students
Appearances
Season 3
Season 4
Season 5
Trivia